Canopy tents provide luxurious shelter
Snuggle into a luxurious spa-like bungalow on beachfront property with tailored merchandise from Cool-summer.com. Enjoy a snoozing nap or soak up the sun with unique beachside canopy tents and beach cabanas, designed to put luxury into durable shelter. All products are designed to weather any storm and enhance beachfront or poolside experiences for homeowners and guests of hotels, resorts, waterparks and country clubs. Take the shade along with portable canopies and chaise lounge chairs in an array of colors and sizes. Preserve summer fun at any time, anywhere.
Wholesale umbrellas reduce shade and costs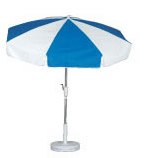 Luxury does not have to cost a small fortune. Cool-summer.com specializes in signature wholesale umbrellas and outdoor furnishings that bring a wealth of enjoyment to our customers. We have a wide range of styles to choose from, including wood and teak, aluminum, fiberglass, contract, market and garden. Find the perfect fit for shade and comfort. Browse through a variety of umbrella sizes to add a summertime, finishing touch to patios and decks, at half the cost. Add deck furniture or canopy tents to compliment deluxe chaise lounges, designer chair cushions, or specialized cabanas. The possibilities are endless!
Portable canopies travel with you
Ensure an exotic experience for each and every guest with oceanfront patio furniture and accessories. Know that wholesale umbrellas and outdoor furnishings provided by Cool-summer.com beat the summer heat in both price and design. Take advantage of the tremendous savings while adding a new look and feel to any facility or private home. Cozy up in a loveseat cushion or chaise lounge chair and take pleasure in the luxurious surroundings. Quality furniture, spas and cabanas bring the elegance of exotic lands to your own backyard. Opt to take the luxury along with portable canopies that travel with ease. Pick the perfect spot and find a signature product that will last a lifetime, only at Cool-summer.com.